Music and Choir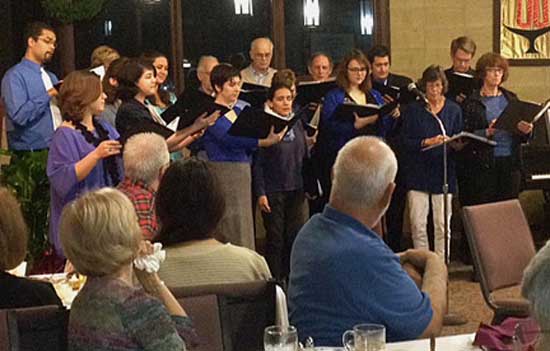 Music provides a foundation for, and an expanded view of, the topics we address in Sunday Services. Under the direction of Music Director Angel de Armendi, choral and instrumental music augments congregational singing at every service.
The Music Program offers a series of concerts for the general community. In addition, the church supports young artists by inviting their participation as guest artists in our Sunday services and other events.
For more details or if you are interested in participating in any of the music programs listed below, contact Angel de Armendi. For email inquiries, please put UUCT Music Program in the subject line.
Chalice Choir
Choir practice is every Wednesday 6:30 PM – 8:00 PM at UUCT
If you are thinking of joining the choir this is the time to start adjusting your busy schedule and make room for a rewarding ministry that can both enrich your life and the congregation's.
Joining the choir does not require any experience in singing, just a willingness to attend weekly rehearsals and be open-minded while learning a new skill — one that you may come to love! The health benefits of singing are well-documented, and finding a new church family is often heart-warming.
Singing Meditation
Meets every Monday in the UUCT Sanctuary at 4:30 PM
Come join us for a synergistic interfaith spiritual practice of many forms of singing, chanting, and group observation of silence. The goal is to help each participant reach a place within themselves where they can connect with the Divine, their Inner Core, the Spirit of Life; wherever they find Peace. Led by Angel de Armendi, Music Director.