Join us the day after Christmas for a special service about winter solstice presented by Helen Cassara, (they/them) who serves as UUCTS's Director of Religious Exploration and is also a seminarian at Starr King School of Ministry. We will explore the concept of shadow work, how it relates to our work as a denomination, and how solstice, advent, and the new moon all encourage us to rest in the fertile darkness of the great unknown.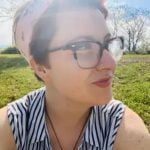 Helen Cassara, Director of Religious Exploration
Helen (they/them/theirs) comes to us from Knoxville, Tennessee, where they worked with children of all ages and abilities in clinical and recreational settings. They studied social work at East Tennessee State University and is currently a Master of Divinity student at Starr King School for the Ministry. They are particularly interested in community ministry and the places where social work and ministry intersect. At UUCT, they manage the children and youth programs, focusing on faith formation through fellowship and fun and encouraging young people to engage with social justice as a way to live their UU values.
Helen's hobbies include keeping up with their wildly adventurous child, trying to make the world a better place, and writing. Their portfolio includes several pieces that have been featured by the UUA.