There are thirteen of us leaving after the first month in the jungle for a few days of break in Iquitos, one remains behind, not ready to be out in the world just yet. That was me. I sent videos to my closest family members with those going on break. I stayed behind to better grasp the critical, yet subtle transformations that I was undergoing. These days back in Tallahassee I am reminded to schedule my annual physical exam that my insurance covers, get x amounts of blood tests and such depending on my age and health risks due to habits, lifestyle choices.

I have learnt to be more responsible over the years, I guess as a child of a Medical Doctor and a Nurse it was meant to be. My spiritual practices are a better indicator of my health than anything else in my life. The weekly singing meditations, Wim Hof breathing/guided meditations, and yoga practices help me stay within my body and cognizant of how my mental and physical health unfolds from day to day. It helps me become aware of how food, rest, and the unfolding of days impact my health.

Here at UUCT we have weekly opportunities to appreciate being with yourself, in the company of others who are learning to be with themselves in the practice of self-love and acceptance with all that there is. It is the practice of recognizing the streaming of miracles unfolding at every moment. My favorite practice remains Singing Meditation on Thursdays at 9:30 in person and/or zoom. If there is a need for a different day and time, please reach out to make that possible. Another practice I have cultivated for the last two years is Wim Hof breathing, which I lead via zoom Mondays at 7:30 am. I also practice this almost every day and during choir rehearsals, also sometimes before bed for a guaranteed restful sleep.

On Thursdays at 6:00 pm in the Sanctuary there is opportunity for chanting, breathing meditation, and a different array of spiritual practices. First and Third Thursdays there is focus on the Taoist practice of contemplation with emphasis on a modern version of the ancient Chinese divination text of the I Ching. Second Thursdays there is a focus on what it is to be male in this day and age, or be perceived as one. Even though the programming is geared towards a men's group anyone is welcomed to attend. Fourth Thursdays we are exploring the book of Non-Violent Communication as a way to practice emphatic listening and compassion with each other. Fifth Thursdays we practice empathic listening through sharing circles, learning how to name our feelings and communicate our needs. Cacao Ceremonies on the third Saturday of the month allows us to honor sacred plant medicine with creative activities such as music making, singing, crafts, coloring, visual arts, and poetry. All in all we offer at UUCT plenty of spaces for the congregation and community at large to come as we are, with an open heart.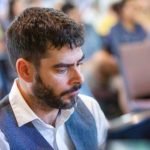 Angel de Armendi, Music Director
Angel (he/she/they/any) received his Bachelor of Music degree from New World School of the Arts and continued his study of piano performance at Florida International University. He made his way to Tallahassee through the Music Theory graduate program at FSU. While in school he diversified his piano skills accompanying FSU and Tallahassee City Ballet dance classes. His interest in vocal coaching took him to the Asolo Song Festival in Italy during two summers, as Assistant Director/Pianist and Composer In Residence. In Tallahassee, he also directs the High Holy Days Choir at Temple Israel, and has been their regular pianist since 2008. His love for sacred music and practice has motivated him to go through and graduate in 2015 from the Music Leadership Credentialing Program, offered by the Unitarian Universalist Musicians' Network. During their 2015 conference in Boston he was unanimously elected as Board Member at Large for the Board of Trustees, a three-year voluntary commitment. He is deeply committed to building a thriving music program at the Unitarian Universalist Church of Tallahassee.