Message from the DRE
Hello and Bright Blessings!
If we were gathering in person, I would take a moment every Sunday to let the whole congregation know what's going on in RE. Since we haven't had that opportunity in some time now, I'd love to show you a little bit of what's been going on in RE recently.
We are proud to currently have 100% regular participation of our enrolled RE participants, up from 87% in autumn 2019.
Despite the pandemic, the program is growing! We have welcomed 6 new families to the RE program since March 2020. Some of these families previously attended irregularly, and some are brand-new tothe UUCT community.
We've added two brand-new offerings since going online!
Our Justice-Centered Parenting Group is a space for parents and caregivers to reflect on theircaregiving roles through a UU and justice-oriented lens. We use our time together to discuss our families, current events, and what it means to be UU parents during this time.
We added a Minecraft group for our middle schoolers in the fall, which allows our middleschoolers space for some faith formation through fellowship and fun and strives to meet somepreviously unmet social needs in the program.
We are keeping our youth group engaged with monthly online movie nights in addition to occasional socially-distanced bonfires at the church. RE Advisor Aun-Drey Brown remains a dedicated Religious Exploration volunteer and incredible role model for our youth. He shows up weekly to support and work with the youth group, and singlehandedly delivered candy, popcorn, and personalized notes to each youth group member ahead of one movie night.
We have created many widely viewed and high-quality Times for All Ages, including one which has been picked up by the UUA for their 30 Days of Love materials.
Our craft-based programming remains popular with our younger students, who receive a kit of craft supplies from the church every month for use during our Zoom sessions.
Our Stuffed Animal Sleepover and Halloween Trick-or-Treat Trail remain the highlights of our pandemic activities so far, and we look forward to offering some more low-contact and low-pressure opportunities to connect soon!
That's all for now, and we're looking forward to continuing to foster faith formation through fellowship and fun online and in-person as soon as it's safe to do so. Thank you so much for being a part of the UUCT community and for your support of the Religious Exploration program!
To sign up to volunteer in the RE program, please use the link below.
https://docs.google.com/forms/d/e/1FAIpQLSffu44iLy5G_gZVqxPFPeWjuxn5lJWAK4hYBj0DHE9wGizjpA/viewform?usp=sf_link
In Joy and Adventure,
Helen Rivers
Director of Religious Exploration
uuctdre2810@gmail.com | 850-329-0602
they/them/theirs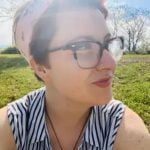 Helen Cassara, Director of Religious Exploration
Helen (they/them/theirs) comes to us from Knoxville, Tennessee, where they worked with children of all ages and abilities in clinical and recreational settings. They studied social work at East Tennessee State University and is currently a Master of Divinity student at Starr King School for the Ministry. They are particularly interested in community ministry and the places where social work and ministry intersect. At UUCT, they manage the children and youth programs, focusing on faith formation through fellowship and fun and encouraging young people to engage with social justice as a way to live their UU values.
Helen's hobbies include keeping up with their wildly adventurous child, trying to make the world a better place, and writing. Their portfolio includes several pieces that have been featured by the UUA.