Hello and Bright Blessings!
There is a ton of important information here, so please read it carefully and let me know if you have any questions or concerns!
We are back in action for a super fun spring jam-packed with in-person RE, Youth Group, family activities, and opportunities for parents and caregivers to connect. We'll be kicking off a brand-new, unique-to-UUCT RE curriculum that will review our 8 UU Principles and help encourage families to explore faith formation together throughout the coming weeks.
Going forward, you can expect us to have regular RE, Youth Group, UU Parenting, and a monthly UU Parenting Grownup Playdate starting in March!
Please note that all in-person events require an RSVP through our online RSVP system, linked here.
All available RSVP slots for participants and volunteers are listed on that RSVP page at the beginning of each month.
If you haven't already, we encourage you to sign up for UUCT's Remind, where all RE announcements and updates will be communicated going forward. (Group texts and mass emails will no longer be utilized as our primary communication method.)
All RE @ UUCT updates are now being distributed in three places:
-Remind – https://www.remind.com/join/uuctre
-Instagram – https://www.instagram.com/uuctre/
-The UUCT Website and weekly email – https://www.uutallahassee.org/events/
Additionally, you can always find the most up-to-date monthly RE calendar here. All offerings labeled "youth group" are intended for middle and high schoolers, and anything labeled "RE" or "Family RE" is for all ages. Youth may be dropped off for YG events, and caregivers are expected to stay on-campus to participate in RE classes with any kids under 12. As soon as volunteer support allows, we plan to launch another youth group specifically for our middle schoolers, as we know we have a large cohort of middle schoolers, especially those with older siblings in high school.
Scheduling is subject to change, especially depending on volunteer availability. Changes will be communicated through Remind. Additionally, after March 2022, the DRE will no longer serve as a primary guide for RE and YG sessions – classes and events that are not adequately supported by volunteers will be cancelled or rescheduled. I will still coordinate lesson plans, logistics, and volunteers, but will shift away from regularly facilitating and move towards supporting our guides and lay leaders. This is a big change from the way we have done things in the past, but an important one in the interests of sustainability and shared ministry. The RE program at UUCT is vibrant and full of incredible potential – it will take all of us working together to bring the incredible opportunities we have to fruition.
You can sign up to volunteer on the same page you use to RSVP. We prefer for Youth Group parents not to serve as YG advisors whenever possible, as youth tend to have a richer experience with non-related guides. Parents are always invited to lead their preschool and elementary school-aged children's classes. If you do not have a background check on file, I will send you a form to fill out ahead of your volunteer date. Background-checked volunteers are our most precious asset in the RE program! Please let me know if you haven't had a background check through UUCT in the last 3 years and would like to, even if you don't expect to volunteer often.
I am looking forward to seeing you all and getting down to the important work of figuring out what this community will be like as we emerge and heal from the pandemic. Thank you, as always, for sharing your kids and yourselves with us, and for being a part of this beloved community. If you have any questions at all, please don't hesitate to contact me.
In Joy and Adventure,
Helen Cassara
Director of Religious Exploration
The Unitarian Universalist Church of Tallahassee
850-329-0602 | www.uutallahassee.org
they/them/theirs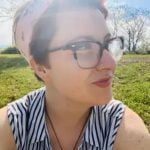 Helen Cassara, Director of Religious Exploration
Helen (they/them/theirs) comes to us from Knoxville, Tennessee, where they worked with children of all ages and abilities in clinical and recreational settings. They studied social work at East Tennessee State University and is currently a Master of Divinity student at Starr King School for the Ministry. They are particularly interested in community ministry and the places where social work and ministry intersect. At UUCT, they manage the children and youth programs, focusing on faith formation through fellowship and fun and encouraging young people to engage with social justice as a way to live their UU values.
Helen's hobbies include keeping up with their wildly adventurous child, trying to make the world a better place, and writing. Their portfolio includes several pieces that have been featured by the UUA.