See you all very soon!
To my beloved congregation and colleagues at UUCT.  The spiritual segment of my Sabbatical has begun. When I return in June to Tallahassee, less than three months away, I would have completed what seems like a daunting yet exhilarating journey to the Amazons.  I am both grateful and honored to be granted this opportunity to experience living in one of the world's greatest ecological treasures and visiting the ancient Incan city of Machu Pichu.  I am seduced by my twin passions of music and flora.  To all who know me a bit more intimately this is no surprise, my garden in Tallahassee is a haven of splendor and delicate peace.  I also have a third passion to get to know other cultures and learn their languages. 
Though I worked in Europe in my 20's and have enjoyed learning Italian and French, my travel to Japan is, to this date, my most impacting cultural experience.  Now I embark to the southern hemisphere to experience life near the Equator among the Shipibo with travelers from all over the world.  I have already started to study the language and learn about their musical traditions and sacred beliefs.  The Shipibo believe that plant spirits have complete access to our hearts and minds, and through a relationship with enlightened trees, or trees that have reached "Buddha" or "Christ" consciousness, humans can also heal their minds, bodies, and souls.  These trees are easily recognizable by their bioluminescence at night.  Along with the Noya Rao, or Tree of Light, there are other master plant spirits one can enter in relationship with and get to know intimately, much like getting to know another human being or a lover. 
I am looking forward to the opportunity of getting to know two of these plant spirits during my stay there. In a world, to quote John Lennon, that favors violence in broad day light and love behind closed doors, my trip seems like a gateway to a magical world, away from a crude and surreal reality of sorts.  Perhaps I will be given the vision of where an enlightened tree lives in our red hills here in North Florida. Perhaps I will be given immense compassion to better serve our community and understand why love is not valued over anything else.  Wish me well.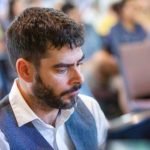 Angel de Armendi, Music Director
Angel (he/she/they/any) received his Bachelor of Music degree from New World School of the Arts and continued his study of piano performance at Florida International University. He made his way to Tallahassee through the Music Theory graduate program at FSU. While in school he diversified his piano skills accompanying FSU and Tallahassee City Ballet dance classes. His interest in vocal coaching took him to the Asolo Song Festival in Italy during two summers, as Assistant Director/Pianist and Composer In Residence. In Tallahassee, he also directs the High Holy Days Choir at Temple Israel, and has been their regular pianist since 2008. His love for sacred music and practice has motivated him to go through and graduate in 2015 from the Music Leadership Credentialing Program, offered by the Unitarian Universalist Musicians' Network. During their 2015 conference in Boston he was unanimously elected as Board Member at Large for the Board of Trustees, a three-year voluntary commitment. He is deeply committed to building a thriving music program at the Unitarian Universalist Church of Tallahassee.