Sabbatical Chronicles I
Roe v. Wade overturned, another day in the American jungle.
There were thirteen of us arriving in the Amazon jungle that would be sharing intimately for the next two months. A fourteenth person joined later and that is how far her story goes, she refused to participate in most of the program and every time we shared with each other she would remind us all that she was being "gentle". That "gentle" was the lesson she needed to learn. I remember during the first "sharemony", a time where each person went around sharing something about their "process", intention for the program, or whatever it was we were supposed to verbally share, this one guy from Oakland, California said that he was in the program to heal and grow in awareness, that the most painful thing for him to experience in life were people who were not self-aware. I learnt that day a peculiar lesson, that what we think we are telling others, is in reality something that we subconsciously are trying to tell ourselves and hopefully actually hear it and process it consciously.
Every book, every film out there is a story or narrative that the authors brought forth because they liked the sound of it. There may be a drive to share something, even to produce a material proof that thoughts were had, yet the ideal recipient of that sharing is usually oneself. We are the perfect audience for our words, though most often we are making ourselves believe they are intended for someone else. When Samuel Alito writes a Supreme Court opinion, he is basically admitting to the whole world that he has no grasp of what he is talking about, otherwise it would be a non-issue or moot point. Therefore, he creates an opening, a huge one in this case, for others to chime in and expose why things need to change. As they say colloquially the ball is in the other court. He also stands for women's rights as much as any American, and for the 1950s he is on point.
So, as I ponder, how could Alito connect emotionally to the existential experience of being an American woman, I ask myself, how can I convey an experience where connection and emotional intelligence are key to understanding it.
Another important lesson I learned was that silence contains all stories, all answers, all language. There are sounds in the jungle worth being quiet for an entire lifetime. The jungle is life at its peak, and what a spectacle life can be. I felt deep gratitude for the gift of being able to be there during this time, for the congregation of UUCT and my family supporting me. I made life-long friends that two months ago were perfect strangers. This reminded me again that the human experience is shared by all, and we have a huge responsibility in creating what that shared experience is every second we breathe. In a sense I haven't left the Amazons, and I feel this American jungle is quite like it, just replace biodiversity by uniquely designed human beings at every corner and voila, we have a world just as beautiful. However, we are just barely scratching the surface on how interconnected we are, or are willing to be with each other. I leave you with this, when you are willing and able to allow for connection, nobody else remains a stranger, therefore there is no need to argue any point, or write any opinion.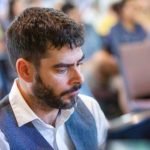 Angel de Armendi, Music Director
Angel (he/she/they/any) received his Bachelor of Music degree from New World School of the Arts and continued his study of piano performance at Florida International University. He made his way to Tallahassee through the Music Theory graduate program at FSU. While in school he diversified his piano skills accompanying FSU and Tallahassee City Ballet dance classes. His interest in vocal coaching took him to the Asolo Song Festival in Italy during two summers, as Assistant Director/Pianist and Composer In Residence. In Tallahassee, he also directs the High Holy Days Choir at Temple Israel, and has been their regular pianist since 2008. His love for sacred music and practice has motivated him to go through and graduate in 2015 from the Music Leadership Credentialing Program, offered by the Unitarian Universalist Musicians' Network. During their 2015 conference in Boston he was unanimously elected as Board Member at Large for the Board of Trustees, a three-year voluntary commitment. He is deeply committed to building a thriving music program at the Unitarian Universalist Church of Tallahassee.