Beloveds,

As Unitarian Universalist, we support personal agency, bodily autonomy. We recognize that all bodies are sacred! We are called by love to work of liberation. Liberation for all of us is the goal because we are not free until all of us are free.
It feels as though the clock has been turned back in so many ways. The rights of so many of us are being threatened. Overturning Roe V. Wade is not about babies, it is not about protecting children, it never was! If it was, there would be more focus on systemic changes that care for children after they are born and protect them from gun violence in schools. It is about control, domination, and oppression. It is about removing the choice to determine what happens to our own bodies.
The stakes are very, very high, lives are at risk. If this law is being rolled back, what is next?
We are in a time where violence is all around us. It shows up in such legislation. In violence against protesters, against women, against LGBTQIA individuals, against Black and Indigenous individuals, and People of Color (BIPOC), and against individuals with disabilities. This Supreme Court Ruling poses an even greater threat than what we have seen thus far. If Justice Clarence Thomas gets his way, there is danger for marriage equality and access to contraceptives.
At the General Assembly of the Unitarian Universalist Association at the end of June, the gathering of congregational representatives, voted to affirm three Actions Of Immediate Witness (AIWs). One of which is entitled "We Do Not Consent: Rejecting Legal Challenges to Abortion". This document provides a clear response to the reality we now find ourselves in and some concrete ways our denomination can "Meet the Moment" which was the theme for this year's gathering.
The Rev. Ashley Horan, Organizing Strategy Director for Side With Love spoke at the end of General Session on Saturday, June 24th at General Assembly. She shared that Side With Love has recognized the many intersections for the current justice issues and they have developed strategies that are inclusive of those intersections. One such intersection is between LGBTQI+ and Gender Justice which includes Reproductive Justice. Side With Love's Action Center is holding a Reproductive Justice Organizing Series on July 21 st , 28 th , and August 4 th . If you are interested, you can find more information at sidewithlove.org/actioncenter.
May you be well, Rev. Holly Brown
This message contains a portion of the sermon given on June 26, 2022.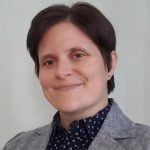 Rev. Holly Brown, Interim Minister
Rev. Holly (they/them/theirs) was ordained on April 3, 2021, by Piedmont Unitarian Universalist Church in Charlotte and Salisbury, NC, where they served as a ministerial intern. Rev. Holly earned their Master of Divinity from Methodist Theological School in Ohio (MTSO) with a special focus on UU courses offered by the UU House of Studies at MTSO. During seminary, they served as a student minister at North Unitarian Universalist Church in Lewis Center, Ohio and student chaplain during one unit of Clinical Pastoral Education at Nationwide Children's Hospital. Rev. Holly also served as an Interim Director of Religious Education at the UU Congregation of Greenville, NC before perusing ministry.
Rev. Holly has a passion for Racial Justice, LGBTQIA Rights, Interfaith Work, and Mental Health Awareness and Accessibility Justice. In addition to local justice work, Rev. Holly is a member of several UUA and UUMA (UU Ministers Association) groups including TRUUsT (Trans Religious professional Unitarian Universalists Together), Trans/Nonbinary Ministers, Ministers with Disabilities, ARE (Allies for Racial Equity), and the UU Mental Health Network.