Hello and Bright Blessings!
Welcome to 2022 and a brand new season of RE at UUCT!
Since 2020 the RE program, like most other things, has been working hard to adapt to the changing circumstances during the pandemic. With Omicron beginning to trend down, we are finally ready to resume some regularly-scheduled in-person RE programming starting in February.
My hope and intention is that this return to in-person programming will be ongoing, though of course we will continue to monitor the situation and may temporarily pause in-person offerings if UUCT's COVID Taskforce deems it necessary.
As of now, we have a full calendar of RE events for children, youth, and families for February! Offerings include an outdoor family movie night, two youth group meetings, and more!
Everything designated "Youth Group" is intended for our middle and high school students, and everything designated "RE" or "Family" is for all ages. We encourage you to participate in whatever offerings feel manageable and nourishing for your family, and to let us know what else we might offer that your family will appreciate.
You can view the full calendar at the link below, and all RE events are also on our new and improved church website.
We have also streamlined our RSVP procedure both for participants and for volunteers. The RSVP link for all RE events is https://rsvp.church/r/PVbrmJgL, and all events and volunteer opportunities for February are up to date. Older adults and anyone not currently involved in RE are especially encouraged to get to know our kids and families through serving as RE volunteers.
If you've never volunteered in RE before or have questions, no worries! I've got you covered. I will send background check authorization forms automatically to anyone who signs up to volunteer and doesn't already have one on file, and I'm happy to meet with you via Zoom or for coffee on the veranda to talk about working with our children and youth!
In addition to those opportunities to work hands-on during RE and YG sessions with our kids, we are in need of a few people to join the RE Committee, which works on long-term planning, events, and collaborating to make the RE program at UUCT run smoothly. We especially encourage former and current youth and RE guides and parents and caregivers with children involved in RE to participate. Please contact me directly if you are interested. Arrangements for flexible meeting times, childcare, and any other needs can easily be made to accommodate your service.
It has been a rough and bumpy couple years, and now that it seems we're ready to rebuild and come back in a meaningful way, sustainability will be at the core of planning for RE at UUCT. This is an incredible opportunity to explore what's worked for us in the past, let go of anything that hasn't, and continue to build a program that honors our vision and hopes for UUCT while also honoring exactly who and where we are as we emerge from this long-term crisis. This is serious and sometimes difficult work that takes a great deal of collaboration and discernment, and I am glad I get to take it on with such a courageous and compassionate community.
In Joy and Adventure,
Helen Cassara
Director of Religious Exploration
religious.exploration@uutallahassee.org
they/them/theirs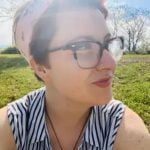 Helen Cassara, Director of Religious Exploration
Helen (they/them/theirs) comes to us from Knoxville, Tennessee, where they worked with children of all ages and abilities in clinical and recreational settings. They studied social work at East Tennessee State University and is currently a Master of Divinity student at Starr King School for the Ministry. They are particularly interested in community ministry and the places where social work and ministry intersect. At UUCT, they manage the children and youth programs, focusing on faith formation through fellowship and fun and encouraging young people to engage with social justice as a way to live their UU values.
Helen's hobbies include keeping up with their wildly adventurous child, trying to make the world a better place, and writing. Their portfolio includes several pieces that have been featured by the UUA.