Beloveds,
One of my favorite parenting coaches is Dr. Becky Kennedy, and one of the best parenting tricks I've learned from her is this simple phrase: "You didn't want that to happen."
I love this phrase because it is non-judgemental and validating, and can be used in so many circumstances.
Kiddo spilled their juice? "Oops, you didn't want that to happen!"
Spouse comes home grumpy because they had to stay late at work? "You didn't want that to happen."
You made a careless mistake because you were distracted? "I didn't want that to happen."
How liberating is it to lead with something so obvious – that when something distressing, stressful, or uncomfortable happens, it is almost never because someone wanted it to?
What we want to happen is usually more like…
Our kiddo wanted to pour their own juice.
Our spouse wanted to be home a lot earlier to spend time with us.
We wanted to give our attention to all of the things that demand it at once.
Our intentions and our impacts don't always line up, as so many of us are learning, and it can be hard to hold the both/and of knowing we did something out of pure intentions, and the impact is the opposite of what we want. We're still responsible for the impact of our words, attitudes, and behaviors, even if they come from a place of good intention.
So let's talk about the elephant in the room: a few weeks ago, after serious discernment and planning with Rev. Holly, I sent out a message letting you all know that my family is moving to Macon, Georgia. This decision came for a lot of reasons, none of which I wanted to happen. Some of them are personal, but the ones I've shared with the congregation are:
My family cannot afford to rent another home in Tallahassee, and our current lease is up.
Florida is becoming more and more unsafe for my queer and trans family every day.
Almost all of the functions outlined in my job description are administrative, can be performed remotely, and have been performed remotely for the last two years.
I want to be very clear with you all that I didn't want any of that to happen, including the circumstances (the pandemic) that led to me learning my job could be done remotely.
When I moved here with my toddler in 2019 to serve this congregation, I never could have imagined that eight months later I would be tasked with figuring out how to make RE happen online during a pandemic, while also supporting my child with special needs from home and 400+ miles away from our support system. This was before my spouse entered the picture, and to be honest, it was a critically painful and stressful year of lockdown for me and Henry before they did.
Like so many of my colleagues, I knew that our congregants were stressed and panicked, and I had a chance to offer something familiar and calm. Sure that this would be a short-lived crisis, I poured everything I could into creating and sustaining our online program, hoping to hold things together while COVID cases died down so we could all be back together for water communion in fall 2020, as we hoped and believed would be the case.
It wasn't the case, and none of us wanted that to happen.
So here we are now, two years into a series of unfortunate events that none of us wanted to happen, and I expect my announcement brought up all kinds of feelings about how we got here, how much we know we don't like being distanced from our communities, and how important we've realized church is to us. None of us wanted to learn how much we cherish our community by being away from it.
That is so valid. I imagine to some, the feeling of not being to control the situation probably felt a lot like the beginning of the pandemic, where none of us had control of the situation. I imagine for some, it brought up feelings about when past staff members at UUCT have left their positions, and how those changes can be difficult and even painful for the community. I imagine it brought up a lot of uncertainty, which none of us need or want right now. Those are some huge feelings, and some that I should have been more prepared for. I am sorry for that. After spending the last two years supporting our community through this large-scale, long-term, traumatic event, I probably should have expected some of that trauma to show up in responses.
It is clear that we have a great deal of healing to do as a congregation, and this is the one point I should have made immensely more clear from the start – I am staying on remotely because while staying in Tallahassee is not a good option for me and my family, leaving my position now, which is the alternative, is not a good option for the church. That option would leave UUCT without any central leadership in RE for a few months at best, longer at worst. I'm not sure what would happen in the meantime, but I imagine it would be less than the programming we are used to and expect, and less than what our children, youth, and families deserve.
I do not expect this arrangement to work out long-term, and I am very aware of that fact. I told one of our Board members this Sunday that I hope this time next year I'm getting ready to hand things over to my colleague who will come after me, both of us confident that the program is strong and healthy. That is what I want to happen – for the program to be so strong and so healthy that it can sustain a staffing transition, and to move on from this position one day knowing that my work here is done and you all are in good hands. That is what I want and intend to happen, and we're not quite ready yet. We have some work to do, and our community, most of all our kids, deserve to have it done.
The RE program at UUCT is in critical need of the congregation's care and attention. We need to acknowledge that the way we used to do things does not work anymore. Our parents are burned out and stretched too thin – they cannot be the only ones helping pull the weight of the program. The whole reason they are here is to be in community, and their community has been content for far too long to put the entire onus of making RE happen on parent volunteers, with the DRE often overextending themselves and their scope of responsibility to cover the gaps.
We have a responsibility to recognize that the "Sunday School"-type model of RE that many of us grew up with and our program has formerly utilized depends on incredible volunteer support. This is true of many of our ministries, we need volunteers to make things happen, but it is the only one where only those with direct stake (children in the program) are expected to pitch in. It takes a village – that's not just a soundbite, that's an absolutely undeniable fact. Our families need their village – I cannot be their entire church village, nor should I be, and they cannot be their own village all the time. One of our older members told me the other day "I didn't know if you wanted people my age to volunteer" and I was shocked. Of course we do! We want anyone who is willing and able to share themselves, and we cherish the wisdom and perspective our elders have to share with our kids. You are their church family, and you are the ones who will be here with them in 5, 10, 15 years when I am not. It takes the entire village.
We have a lot of work to do on our program, the way our community relates to our children and youth, and how our community shows up for our RE program. It is hard work, and we owe it to ourselves to do it.
Thank you all for sharing yourselves with the community. I am excited to keep doing this important work for our children and families alongside you.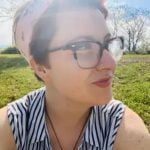 Helen Cassara, Director of Religious Exploration
Helen (they/them/theirs) comes to us from Knoxville, Tennessee, where they worked with children of all ages and abilities in clinical and recreational settings. They studied social work at East Tennessee State University and is currently a Master of Divinity student at Starr King School for the Ministry. They are particularly interested in community ministry and the places where social work and ministry intersect. At UUCT, they manage the children and youth programs, focusing on faith formation through fellowship and fun and encouraging young people to engage with social justice as a way to live their UU values.
Helen's hobbies include keeping up with their wildly adventurous child, trying to make the world a better place, and writing. Their portfolio includes several pieces that have been featured by the UUA.