Hello and Bright Blessings!
We are deep in the planning phase for our 2022-23 program year, and I'm so excited about how it's shaping up!
Right now, we anticipate offering the Soul Matters Coming of Age curriculum for our middle and high schoolers. This program will include twice-monthly sessions from September to May and culminate in a youth-led worship service and community service project this spring. Meanwhile, our elementary schoolers will have weekly classes incorporating Makerspace, movement, and Soul Matters' elementary curriculum.
One of the best parts of Soul Matters is the diversity of materials included in lessons, so they can be tailored to the specific needs of individual congregations. In order to thoroughly assess those needs, I need two things from all of our parents and caregivers:
Please fill out the 2022-23 program survey using this link
Filling out both of these forms should not take much time and will provide us with valuable information that we will use in the planning process. It helps us significantly to know how many kids we can expect regularly, what their allergy and dietary needs are so we can have appropriate snacks on-hand, what sensory and behavioral needs they're coming to RE with so we can make plans to accommodate them, and so much more. These forms are your opportunity to have a program created with your family in mind, which is one of the great blessings of being part of a small, close community such as ours.
I am so looking forward to hearing from you and being with you all in-person the weekend of August 20-21 for our guide training workshop and annual Backpack Blessing service! As always, please don't hesitate to contact me if you have any questions or concerns, and thank you for sharing yourself and your kids with the UUCT community.
With Gratitude,
Helen Cassara, DRE
religious.exploration@uutallahassee.org
850-329-0602
they/them/theirs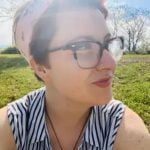 Helen Cassara, Director of Religious Exploration
Helen (they/them/theirs) comes to us from Knoxville, Tennessee, where they worked with children of all ages and abilities in clinical and recreational settings. They studied social work at East Tennessee State University and is currently a Master of Divinity student at Starr King School for the Ministry. They are particularly interested in community ministry and the places where social work and ministry intersect. At UUCT, they manage the children and youth programs, focusing on faith formation through fellowship and fun and encouraging young people to engage with social justice as a way to live their UU values.
Helen's hobbies include keeping up with their wildly adventurous child, trying to make the world a better place, and writing. Their portfolio includes several pieces that have been featured by the UUA.