Message from the DRE
Hello and Bright Blessings!
My goodness, it's been so long! I am so excited I finally get to share with you that we're ready to return to some in-person RE and Youth Group activities at UUCT!
This process will be much more an intentional unfolding rather than the big back to church celebrations we may have once hoped for. With the holidays coming up, our meetings in November and December will not be regularly scheduled and will focus mostly on reconnecting, rebuilding our volunteer pool, and getting used to being on campus with our church friends again.
These next few months will be a bit of an adjustment and will take a great deal of careful collaboration between our RE guides, UUCT staff, the larger congregation, and our families as we work together to continue rebuilding our RE program.
This is the time to think about and share with your staff what your family wants and needs from your church community. How has this community served you in the past? What ways were the most significant for you? What alternatives may have been more helpful, more nourishing, or more accessible? When have you felt the most welcome, the most witnessed, the most at home in your church community? As we co-create this next chapter of UUCT's story, I truly want to receive and explore your responses to those questions so we can build the church, the program, the world we dream about – together.
Our first in-person RE and Youth Group meetings will be on Sunday, November 14th.
Worship will still be held virtually via Zoom at 11:00, and families are invited to join us from 12:30-1:15 for RE circle and craft time on the veranda.
At 1:30, our youth are invited to join myself and Aun-Drey on the veranda for about an hour of check-ins and fellowship.
Please note that the large playground is not currently open due to maintenance needs.
Until our volunteer pool has been adequately reestablished with qualified, background-checked volunteers, parents and caregivers are expected to remain on campus and supervise their children during in-person RE.
Youth Group will only be held if we have two background checked volunteers, so members may be dropped off and picked up. Youth must be signed in and out by a parent or guardian unless other arrangements have been made with me ahead of time.
Masks are required for all participants ages five and up and encouraged for participants under 5. We do expect this to shift as COVID rates continue to fall and more of our 5-11 year olds are able to be vaccinated. In the meantime, thank you for helping us continue to prioritize the safety of our most vulnerable community members.
If you are interested in serving as a volunteer, please let me know via email so I can arrange for your background check (or verify that you've already had one) and connect with you about how you'd like to share your talents with the children and youth at UUCT.
Please use the link below to RSVP for RE this Sunday, and pay attention to next week's Meridian about more upcoming opportunities.
Sunday, November 14th RSVP Link – https://rsvp.church/r/PVbrmJgL
And don't forget to follow us on instagram! https://www.instagram.com/uuctre/
Looking forward to being with you all on Sunday!
In Joy and Adventure,
Helen Cassara
Director of Religious Exploration
The Unitarian Universalist Church of Tallahassee
850-329-0602 | www.uutallahassee.org
they/them/theirs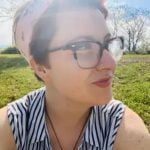 Helen Cassara, Director of Religious Exploration
Helen (they/them/theirs) comes to us from Knoxville, Tennessee, where they worked with children of all ages and abilities in clinical and recreational settings. They studied social work at East Tennessee State University and is currently a Master of Divinity student at Starr King School for the Ministry. They are particularly interested in community ministry and the places where social work and ministry intersect. At UUCT, they manage the children and youth programs, focusing on faith formation through fellowship and fun and encouraging young people to engage with social justice as a way to live their UU values.
Helen's hobbies include keeping up with their wildly adventurous child, trying to make the world a better place, and writing. Their portfolio includes several pieces that have been featured by the UUA.