Freethinkers' Forum
Quantum Physics and the Theory of Everything of Stephen Hawking
Tuesday, April 10, at 7:00 pm, Room L
Presented by: Gary Stilwell, Ph.D.
Gary Stilwell, Ph.D.: Gary received his bachelors degree in Mathematics from Auburn, and then joined the IBM Corporation where he worked from 1963 to 1993 (30 years). In 1993 he retired from working in science, technology and super-computing at IBM and began second careers of scientific computer consulting, and academic research, writing, and teaching, combining his professional experience in the sciences with an academic interest in religion he went on to earn an MA and Ph.D. in Humanities with emphasis on religion and began writing and lecturing on these subjects at Florida State University and Academy (now called OLLI) in Tallahassee, Florida. He also volunteers at non-profit organizations. Gary's book publications include: Christianity: 5000 Years of History and Development; Where Was God: Evil, Theodicy, and Modern Science; and
Afterlife: Postmortem Judgments in Ancient Egypt and Ancient Greece.
Freethinkers' Forum
The Intersection of Philosophy and Psychology: New Twist on the
Trolley Problem
Tuesday, April 17, at 7:00 pm, Room L
Presented by: Gary Whittenberger, Ph.D.
Gary Whittenberger, Ph.D.: Gary is a current co-director of Freethinkers' Forum and president and Secretary on the Center for Inquiry Tallahassee Advisory Board. He received his Ph.D. in clinical psychology from FSU and worked as a correctional psychologist for 23 years. He is the author of "God Wants You to be an Atheist."
Adult Our Whole Lives (OWL)
The Adult Our Whole Lives (OWL) sexuality education series is back!  Holly Thompson and Melinda Stuart-Tilley will facilitate this series of workshops where we will explore the relational, emotional, physical, and spiritual aspects of adult human sexuality. The award-winning OWL curriculum provides the framework for learning, while participants and facilitators will explore questions and discussion points together, as a group.  More information about the OWL programs can be found at www.uua.org/re/owl.
Remaining Workshops – Saturday mornings from 10 am to noon: April 14th, April 21st, and May 5th.  If you would like to be part of the Adult OWL program, please contact Melinda at religious.exploration@uutallahassee.org as soon as possible.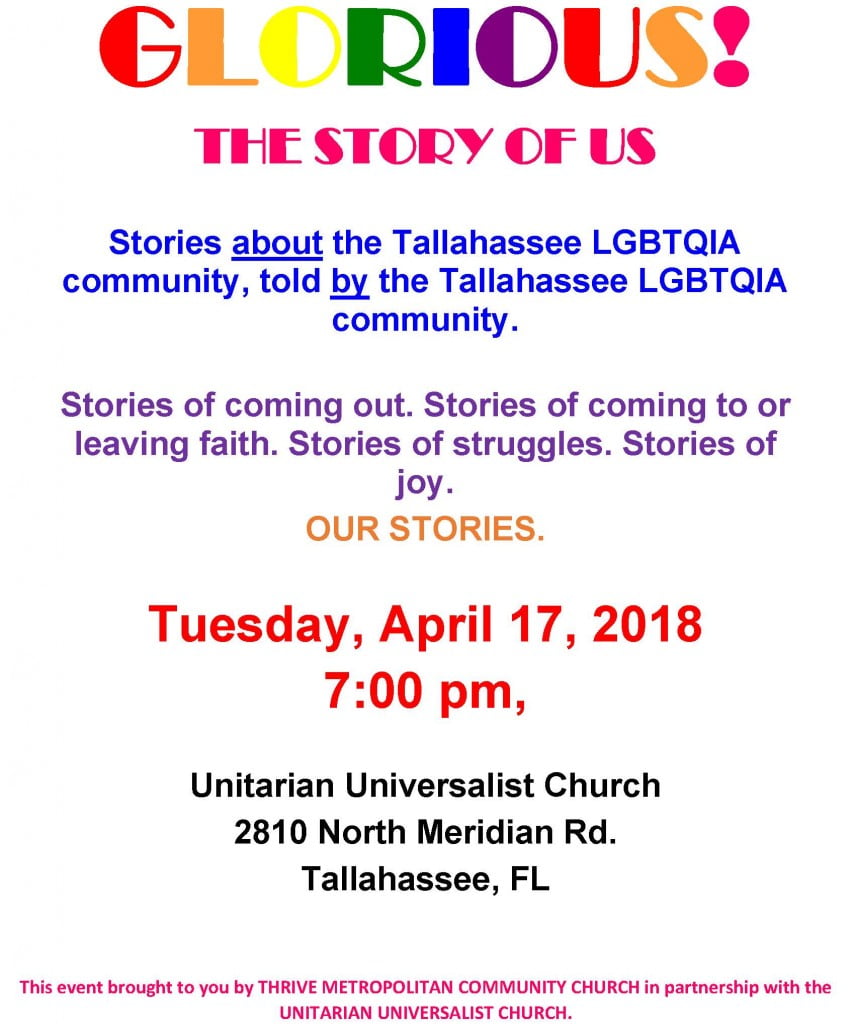 The 2018 Longest Table
Sunday, April 22, 6:00 pm, Sanctuary
UUCT Coordinator: Bonnie Abellera
Three years ago, the City of Tallahassee implemented a simple way of getting people together to share stories over a meal. Last year, UUCT had between 35-40 people for dinner.
With many residents wanting to do more to break down racial, cultural, economic and other social barriers in our community, Tallahassee continues the conversations on Sunday, April 22nd at 6 pm.
Once again, this event will consist of dinners and discussions taking place simultaneously in homes, restaurants, churches, and other gathering places across our community. Our third in-home dinner will be potluck, please bring a favorite dish to share!
If you plan to attend, please go to the website tlh.villagesquare.us/event/the-longest-table/) and click on the RSVP button. We are asking all UUCT members and friends to RSVP for planning purposes. You will receive a confirmation e-mail from the City of Tallahassee; please respond to that email and indicate that you plan to attend the Longest Table at the UU Church of Tallahassee. The City's event coordinators will be assigning people based on their preferred location.