UUCT Winter Fest Celebration and Potluck!

Saturday, December 7, Sanctuary
Drop in between 4:00 pm and 8:30 pm!
Coordinator: Bonnie Abellera, Community Connections Chair
This annual celebration is a tradition for the UUCT congregation. Part of that tradition includes you and your family, spouse, partner or friends–all are welcome!
The event will be held in the Sanctuary and on the Veranda. Bring a favorite (labeled) food item to share, dress up or show off your ugly sweater, bring an ornament for the tree and a gift for our Christmas Connection family to put under the tree. We'll have some activities for children and would like children and youth involved when we light the candles for Chalica.
Our holiday theme this year will focus on trees, which are important to our UUCT community. Trees provide food, shade, oxygen, homes for wildlife and people and play a role in many rituals or celebrations. Let's celebrate our trees! If you have a favorite story (e.g. Charlie Brown's Christmas Tree), poem or social justice message about trees to share or want to recommend a holiday song about trees, email them to me at leonpta1@yahoo.com. I will create a program and encourage your participation.
Sign up to help decorate tables, assist with food/drinks, sound, songs, readings or other entertainment. All are encouraged to help clean up after the event. Let's share some holiday cheer!
There will not be a potluck after the service on Sunday, December 8th.
Freethinkers' Forum

Tuesday, December 10, 7:00 pm, Room L
Every Tuesday!
A Range of Ethical Dilemmas
Presented by: Gary Whittenberger
Ethical dilemmas are part of daily life.  We are guided by our own ethical framework, whether we articulate it or not.  Philosophers have formulated a few broad systems — Deontological, Utilitarian, Virtue Oriented, and Religious Based.  Gary will present a lecture and conduct a discussion about six ethical dilemmas, some simple and some complex.
The Freethinkers' Forum offers a discussion venue for those who think that opinions, religious and otherwise, should be formed on the basis of logic and reason.
Presentations include topics in science, social science, philosophy, and literature. Directors of the Freethinkers' Forum are Warren Brackmann, Antonio Garcia, and Gary Whittenberger. To be added to the email notification list, email the Office Administrator. Emails should have "Freethinkers' Forum" in the subject line.
All are welcome to attend.
Women's Lunch Bunch!

Wednesday, December 11, 11:30 am, Uptown Cafe
Every 2nd  Wednesday!
Contact: Linda Oaksford
1325 Miccosukee Rd, Website: http://www.uptowncafeandcatering.com/
Brunch Sign up: https://docs.google.com/forms/d/1P11j8UjaE5heHVMuhGq54FY7eV1PNLj0P-XpM9FJNYM/viewform
Come share a meal and spend some time with other members of the UUCT community.
Yoga at UUCT!

Thursday, December 12, 6:30 pm, Sanctuary
Every Thursday!
Instructor: Delilah Thomas
Grab your mat and join us! All skill levels welcome!
No registration needed! Just show up!  Donations are encouraged!
Contact Suzanne Ripka for more information.
Delilah began her journey with yoga in 2013 and received her Certified Yoga Teacher Training 200-hour with Horizon Blue Yoga in 2015. She is also registered with Yoga Alliance -RYT200, which encourages continuing education within the yoga community. Delilah shared that "Yoga has provided me with many profound benefits, those of which include increased flexibility and strength due to the physical practice, as well as emotional, mental, and spiritual benefits. Yoga is a very holistic practice. What I do on the mat often transfers off the mat into other areas of my life. One of the best benefits that yoga has provided for me is learning the practice of self-care. I am genuinely excited and committed to sharing the tools of yoga with others and to help them find their own benefits from the practice."
Getting to Know UUCT 
Sunday, December 15, 12:15 pm, Room K
Every 3rd Sunday!
What is UUCT all about? In less than an hour the Membership Team will introduce newcomers to UUCT, answer questions, and invite you to share what brings you here. To learn more about this session, contact Trudy Deyle,  Sally Andersen, or Terri Martin.
Dandelion Pagan Collective

Sunday, December 15, 4:30 pm, Sanctuary
Every 3rd Sunday!
Facilitated by: Rei Myers & Sarah Tso
SHARED ALTAR
Bring a item to place on our community altar during the meeting. It can be anything you like, the same thing or something different each time. During introductions, tell us what you brought and why.
TEA AND SNACKS AFTER
We have tea for during and after the meeting! If you like, bring something extra to share during social time after the meeting.
Dandelion Pagan Collective is an intersectional, open and accepting group about Paganism, Wicca, Witchcraft, Shamanism and other related paths for people in and around Tallahassee, Florida. Our meeting include discussion, workshops, presentations, rituals, and community building. We are open and accepting of all people regardless of their race, gender, age, culture or ability.
UU Explorations

Tuesday, December 17, 7:00 pm, Room 3
Every 3rd Tuesday!
Facilitated by: Trudy Deyle and Sally Andersen
Covenant: At UUCT and In the Unitarian Universalist Movement. For this second round of UU Explorations, we have moved the session on covenant to be before the sessions on Freedom & Belonging and Our UUCT Story. Our thinking is that reflecting on covenant is a great way to start the new church year and also a good thing to do before the other two topics. 
You are invited to join a special Small Group Ministry, UU Explorations, for those interested in gaining a deeper understanding of what it means to be a Unitarian Universalist. This is a sharing and listening circle about topics that relate to the theme: What does it mean to be a Unitarian Universalist? It is an opportunity to get to know others on a deeper level and reflect together on important topics and concepts in Unitarian Universalism. At each gathering, we: check in with each other on how our lives are going, share our thoughts on one of twelve topics, simply listen to one another, and then share any further reflections we have. The circle is specifically not a class or discussion group.
The group began with newcomers from the past two years who were interested, and each month, any new member or supporting friend has been invited to join us. Each person remains in the group for a year, at which point the topics will begin to repeat for them. The sessions have been so interesting and informative that they've been opened up for the congregation's participation.
Each month's topic will be announced in the Meridian with a few questions to reflect on and a packet of readings. However, we start each meeting by introducing the topic, so if you don't have time for reflecting or reading ahead of time, it is still be perfectly fine to come. The topics we're covering are listed below.
TOPICS BY MONTH
April – 1. The Seven Principles of Unitarian Universalism
May – 2. The Six Sources of Unitarian Universalism
June – 3. The Theological Diversity in Unitarian Universalism
July – 4. Science, Religion, and Reverence
August – 5. The History of Unitarian Universalism
September – 6. Covenant: At UUCT and In the Unitarian Universalist Movement
October – 7. Freedom and Belonging in Unitarian Universalism: For Individuals and For Congregations, including Congregational Polity
November – 8. The Story of Our UUCT (A History of Congregational Polity and the Democratic Process)
December – 9. Spiritual Practice
January – 10. Gratitude, Forgiveness and Reconciliation as Spiritual Disciplines and Practices
February – 11. Shared Ministry and Stewardship of Our Faith and Liberal Presence in Tallahassee: Sharing Our Gifts of Time, Talent and Treasure
March – 12. Compassion and Social Justice as Spiritual Practice
Note: While the first gathering on Topic #1 was held in February 2018, the October 2018 gathering had to be canceled in the aftermath of Hurricane Michael. In addition the June 2019 gathering was canceled due to all facilitators out of town. So all topics shifted forward two months.
All are welcome to attend!
Childcare available upon request
Ethical Eating Evenings at UUCT!
Friday, December 20, 6:00 pm, Sanctuary
Every 4th Friday!
Facilitated by Linda Oaksford
Juan Matos, a long-time vegetarian, and more recently (three years ago) a vegan, will present several short videos to help people get started on a plant-based diet. We look forward to meeting with new participants as well as those who have been coming.
If you would like to join us, please contact Linda Oaksford at lloaksford@gmail.com.
In 2008, the UUA General Assembly chose Ethical Eating: Food and Environmental Justice for study and action, and then in 2011, a Statement of Conscience on Ethical Eating was adopted and an Ethical Eating Study Guide* was written.
People of Color Meet Up
Sunday, December 22, 9:30 am, Room C
Every 4th Sunday!
Facilitated by Rosa Morgan and Meagan Arrastia-Chisholm
Members, friends, and visitors of color at UUCT are welcome to our monthly meetup! We will be deepening our relationships with each other, Unitarian Universalism, and our congregation through sharing spiritual practices and stories of showing up with our whole selves.
Revitalizing Elderhood: A UU Tapestry of Faith Program
Thursday, January 2, 11:30 am, Room L
Every 1st Thursday!
Facilitated by: 
Rev. William Levwood, Minister
Mary Wolfgang, VP for Church Community
We recommended that you bring a brown-bag lunch.
CURRENTLY FULL
Are you an elder looking to embrace the next steps on your journey in life, or are wondering about the path?  If so, please join us for the Revitalizing Elderhood: A Tapestry of Faith Program.  This is 6-session series is packed with useful information, so it is best to commit to as many sessions as you can.
The goals of this program are to:
Identify and explore the positives about being an elder.
Use journaling as well as color and line as expressions of spirituality and creativity.
Lead participants to claim inner wisdom.
Help participants come to understand being an elder as a time of spiritual richness.
Invite participants to remain adventurous in thinking about the future.
Challenge participants to find ways to mentor others.
The sessions are full but you can get on the wait list by emailing Mary Wolfgang at mswolfgang@aol.com, with your name, phone, email, and a note that you plan to attend most sessions.  If you have questions, you can call Mary Wolfgang at 545-2926.
Emergent Strategy Group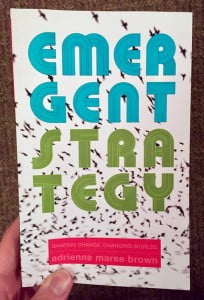 Thursday, January 2, 7:00 pm, Room 3
Every 1st Thursday!
As our congregation moves through transitions, builds relationships for the work of social justice in the community, and commits to an intentionally anti-racist, anti-oppressive, multicultural beloved community, we face many challenges for "how to do the work" and stay in right relation with each other.
We invite you to read the book Emergent Strategy by writer and pleasure activist Adrienne Maree Brown (or review online summaries) as time permits, but definitely don't let that hold you back from joining the discussion.
We'll unpack the rich wisdom of incorporating an emergent, adaptive, and growth mindset into our personal lives, how we relate to each other as a congregation, and how we can leverage these values in our work for justice in the wider world. You can purchase the book through the inSpirit UUA Books & Gift store. Contact Anna Bethea for more information.
Church Workday!

Saturday, January 11, 9:00 am – 2:00 pm
Every 2nd Saturday!
Coordinator: Bonnie Abellera, Community Connections Chair
Refreshments & tools provided!
Come for an hour or join us all day. There are no rules for how long you should stay! No time is too short, and no job is too small! We welcome your help!  We appreciate it all!
UUCT Potluck!

Sunday, January 12, 12:15 pm, Sanctuary/Veranda
Every 2nd Sunday!
Coordinator: Will Atkins, metamuse@comcast.net
Everyone is invited to bring a dish to enjoy in fellowship with other members, friends, and guests!  Please either contact Will Atkins, or just jump in, if you can help with set up and/or clean up!
We need you! Would You Like to volunteer to Set up or to Clean Up (really need help here) at our monthly (2nd Sunday of Month) UUCT Potluck Sundays?  If so, we invite you to help with this popular ongoing community activity!  There are a few ways to sign up:
There are aprons available in the kitchen so that you don't get dirty!