Yoga In the Sanctuary

Thursday, February 21, 6:30 – 7:30 pm
Every Thursday!
 Instructor: Delilah Thomas
Grab your mat and join us! All skill levels welcome!
No registration needed! Just show up!  Donations are welcome!
Childcare available upon request
Contact Suzanne Ripka for more information.
Delilah began her journey with yoga in 2013 and received her Certified Yoga Teacher Training 200-hour with Horizon Blue Yoga in 2015. She is also registered with Yoga Alliance -RYT200, which encourages continuing education within the yoga community. Delilah shared that "Yoga has provided me with many profound benefits, those of which include increased flexibility and strength due to the physical practice, as well as emotional, mental, and spiritual benefits. Yoga is a very holistic practice. What I do on the mat often transfers off the mat into other areas of my life. One of the best benefits that yoga has provided for me is learning the practice of self-care. I am genuinely excited and committed to sharing the tools of yoga with others and to help them find their own benefits from the practice."
Emergent Strategy Discussion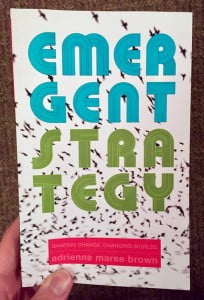 Thursday, February 21, at 7:00 pm, Room 3
Every 3rd Thursday!
As our congregation moves through transitions, builds relationships for the work of social justice in the community, and commits to an intentionally anti-racist, anti-oppressive, multicultural beloved community, we face many challenges for "how to do the work" and stay in right relation with each other.
We invite you to read the book Emergent Strategy by writer and pleasure activist Adrienne Maree Brown (or review online summaries) as time permits, but definitely don't let that hold you back from joining the discussion.
We'll unpack the rich wisdom of incorporating an emergent, adaptive, and growth mindset into our personal lives, how we relate to each other as a congregation, and how we can leverage these values in our work for justice in the wider world. You can purchase the book through the inSpirit UUA Books & Gift store. Contact Anna Bethea for more information.
People of Color Meet Up
Sunday, February 24, 9:30 am, Room C
Every 4th Sunday!
Members, friends, and visitors of color at UUCT are welcome to our monthly meetup! We will be deepening our relationships with each other, Unitarian Universalism, and our congregation through sharing spiritual practices and stories of showing up with our whole selves.
Contact Anna Bethea at anna.bethea@gmail.com for more information.
Freethinkers' Forum

Tuesday, February 26, 7:00 pm
Every Tuesday!
Hiring Politicians-Developing Criteria
Presented by: Pat Fowler
Pat Fowler is a secular socialist preacher who has worked his adult life in programs for the poor, the elderly, the criminal and the mentally ill, while being active in the semi-left side of Democrat Party politics.
All are welcome to attend!
Childcare available upon request
Getting to Know UUCT 

Sunday, March 3, at 12:15 pm, Room K
Every 1st Sunday!
What is UUCT all about? Learn more by joining the Welcome Team. In less than an hour, we will introduce newcomers to UUCT, answer questions, and invite you to share what brings you here. To learn more about this session, contact Sally Andersen, or Terri Martin.
Dandelion Pagan Collective
Sunday, March 3, 4:30 pm, Sanctuary

Every 1st and 3rd Sunday !
 Co-hosts: Rei Myers & Sarah Rose
Ancestral Medicine
Everything we are today is because of the beings who came before us. Our ancestors include all human departed as well as flora, fauna, and every element of life. The teachings of Daniel Foor, author of "Ancestral Medicine: Rituals for Personal and Family Healing," invite a return to ancestral connection by tuning in, communicating with, and honoring the benevolent ancestors of our blood lineages.
We will gather to meditate individually and collectively on our ancestral lineages. Our intention will be to come away with tools for cultivating relationships with our ancestors who are well in spirit. These well ones are a safe and potent entry into healing up more painful places in our ancestral lines.
If you have a personal practice that connects you to your ancestors, there will be an opportunity for you to share this as well!
Lauren Levwood is a mother, dancer, birth mentor, bodyworker, and Masters of Divinity candidate at Starr King School for the Ministry, a Unitarian Universalist seminary in Berkeley, CA. Lauren's interest in Ancestral Medicine was sparked by her recent studies with Taya Ma Shere, a practitioner of Ancestral Lineage Healing and Visiting Assistant Professor of the Practice of Organic Multireligious Ritual at SKSM. Lauren is excited to be back from Berkeley to share some of what she learned there!
SHARED ALTAR
Bring a item to place on our community altar during the meeting. It can be anything you like, the same thing or something different each time. During introductions, tell us what you brought and why.
TEA AND SNACKS AFTER
We have tea for during and after the meeting! If you like, bring something extra to share during social time after the meeting.
Dandelion Pagan Collective is an intersectional, open and accepting group about Paganism, Wicca, Witchcraft, Shamanism and other related paths for people in and around Tallahassee, Florida. Our meeting include discussion, workshops, presentations, rituals, and community building. We are open and accepting of all people regardless of their race, gender, age, culture or ability.
Childcare available upon request
Church Workday!

Saturday, March 9, 9:00 am
Every 2nd Saturday!
Coordinator: Bonnie Abellera, Community Connections Chair
Refreshments & tools provided!
Come for an hour or join us all day. There are no rules for how long you should stay! No time is too short, and no job is too small! We welcome your help!
We appreciate it all!
Potluck!
Sunday, March 10, 12:15 pm, Sanctuary/Veranda
Every 2nd  Sunday!
Bring a dish to share and enjoy in fellowship with other members, friends, and guests!  Everyone is welcome!  Contact Will Adkins, or just jump in and lend a hand, if you would like to help set up and/or clean up!
Social Justice Matters

Environmental Justice Study Sessions
Sundays – 3/10, & 4,14 at 1:00 pm in Room L
Contact: Susan Fleming
safleming02@msn.com; call or text (203)722-6501
A church wide discussion series, with guest speakers!
With climate changes upon us, how do we prepare, and help to provide protection, to those that are most vulnerable? It's time to turn our attention locally to the issues that low income people of color face along with other members of our community who are financially poor and in need of assistance. The planned study sessions will include speakers to assist us in discussing the varied expert perspectives we'll find in the book Justice on Earth: People on Earth Working at the Intersections of Race, Class, and the Environment while we ponder the impact of the topics that are discussed. Our intent is to become better informed, and ultimately to have the tools in order to work in cooperation with our community partners who currently provide aide where it is needed most. We will then narrow our attention, and expand our focus, in order to more effectively respond.
There are just a few books left for sale, but more can be ordered ($17 each). We have two available to borrow for those that are interested in that option. Contact Susan Fleming or Beth Hollister to obtain your copy of Justice on Earth: People of Faith Working at the Intersections of Race, Class, and the Environment, the UUA annual common read. Buy or borrow a book and join in!
Concert! Compton & Newberry, A Return to the Roots of Bluegrass

Friday, March 15, 7:00 pm, Sanctuary
Contact: Howard Pardue
hpardue@comcast.net
SAVE THE DATE!! Like banjo, mandolin, guitar and singing of Old Time and Bluegrass music? Mike Compton and Joe Newberry, award winning virtuosos of old-time mandolin, banjo and guitar are coming to town. They bring roots music of the 1930's and '40s as it transitioned into what is known today as Bluegrass.
Tickets are $20 adults, $10 youth 17 and under.
Tickets go on sale on February 21st. For information, contact Howard Pardue, hpardue@comcast.net. Howard will be back in town and selling tickets on the Veranda after the 2/24 service.
Event Sponsored by the Community Connections Committee