Location & Accessibility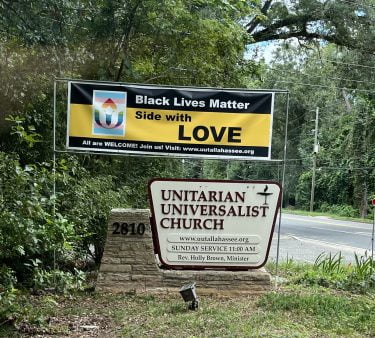 Located on five hilly and wooded acres on North Meridian Road in Tallahassee, Florida. The location is an ideal and picturesque setting for worship, meditation, weddings, group meetings, special events, and workshops. Our sanctuary features floor to ceiling windows with panoramic views of the surrounding greenery.
Parking
There are a number of parking areas around the buildings. Four (4) designated spaces for vehicles with Disabled Parking Permits are adjacent to the accessible entrance to the Sanctuary. Several "First Time Visitor" spaces are also close to the main entrance.
Accessibility
A paved path with no steps leading to the Sanctuary entrance.
An automatic door opener on the primary entrance.
A virtual Sanctuary providing a live stream of the worship service for those who do not find the large Sanctuary comfortable.
The restrooms accessible for those using a walker, crutches or scooter. Handrails are installed. Wheelchair users may find they need assistance to open and close doors.
If you have any questions or concerns about accessibility, please call the church office at (850) 385-5115 or email the Office Administrator to seek further information. If you have a hidden disability that you think it's important for someone to know, please contact the minister to share your information in confidence.
We want everyone to feel welcome and included. We may not be able to immediately remedy every barrier to your participation, however, we want to know if you have recommendations to improve our facilities.
Directions
Our Google Maps link offers you door-to-door directions for driving, walking, biking, or public transit.