Minister and Staff
Reverend William Levwood, our settled Minister, began his ministry with us on August 16, 2018.  He was ordained and installed as our minister on September 22, 2019.  Rev. Levwood received his Masters of Divinity from Starr King School for the Ministry in Berkeley, California. Previously he served as the intern minister at the Unitarian Universalist Church of Reading (Reading, Massachusetts). Most recently he completed a two year chaplaincy residency at Wake Forest Medical Center in Winston-Salem, North Carolina, where his focus was in Oncology and Palliative Care. Among other things, William brings a passion for environmental and racial justice, excellence in worship, including worship for all ages, and a nurturing spirit for sustaining and deepening loving community at UUCT. He and his family are overjoyed to be joining this community and the larger community of Tallahassee.
Message from the Minister            Worship Recordings
Tallahassee Democrat article from October, 26, 2018
Tallahassee Democrat article from September 27, 2019
Angel de Armendi, Music Director, received his Bachelor of Music degree from New World School of the Arts and continued his study of piano performance at Florida International University. He made his way to Tallahassee through the Music Theory graduate program at FSU. While in school he diversified his piano skills accompanying FSU and Tallahassee City Ballet dance classes. His interest in vocal coaching took him to the Asolo Song Festival in Italy during two summers, as Assistant Director/Pianist and Composer In Residence. In Tallahassee, he also directs the High Holy Days Choir at Temple Israel, and has been their regular pianist since 2008. His love for sacred music and practice has motivated him to go through and graduate in 2015 from the Music Leadership Credentialing Program, offered by the Unitarian Universalist Musicians' Network. During their 2015 conference in Boston he was unanimously elected as Board Member at Large for the Board of Trustees, a three-year voluntary commitment. He is deeply committed to building a thriving music program at the Unitarian Universalist Church of Tallahassee.
Helen Rose (she/her), Director of Religious Exploration, comes to UUCT from Knoxville, TN, where she worked with children of all ages and abilities in clinical and recreational settings. She was active in her home congregation, Westside UU, where she has been a member since 2011. At Westside, Helen served as an RE teacher, youth group adviser, and member of the worship and RE committees, as well as a social media contributor and moderator. (She recently met someone from another UU congregation and introduced herself by listing the committees she served on — and says that interaction is only the second most UU thing that's ever happened to her.)
Helen is currently a senior at East Tennessee State University, where she studies social work. After graduation, she intends to pursue a Master of Divinity degree with the goal of becoming a Unitarian Universalist minister. She loves spending time in nature and with her active and curious toddler, Henry (he/him, they/them). Helen also loves writing, and has had pieces featured by the UUA, including a blessing to the queer community that was featured for Pride 2019. (https://www.uua.org/offices/people/helen-rose)
"I believe religious and spiritual education is one of the most vital components of Unitarian Universalist ministry, and as a parent, I believe it to be one of the most important aspects of a child's potential for success and holistic well-being." — Helen Rose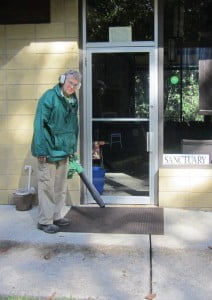 Our Sexton, Les Campbell, is a multi-talented handyman who loves the outdoors.  His family has been in the Big Bend for generations and he is a wonderful unofficial local tour guide.  He volunteers much of his free time with organizations that focus on cleaning up the environment.
From the moment Scott Geraci, Chief Nursery Worker, first came to UUCT more than 10 years ago, this father of six has worked with the congregation's children. He began as a volunteer in the nursery, and moved on to work with the Youth Group, the middle school-age group, and also the kindergarten-age children and first graders. He later returned to work in the nursery, where he continues to supervise the care of the children of members and visitors. Scott works full time teaching art to adults with disabilities and in his spare time pursues his own artistic interests including photography, drawing, sculpture, and writing.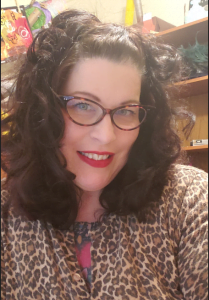 Our Office Administrator, Adriane Pitt is from Northwest PA but sick of driving in snow, came to Tallahassee over 15 years ago. She brings over twenty years of office management, human resources, and community outreach experience. Once given the nickname "Queen of Extreme Multi-tasking" she loves what she does and is excited to be a part of UUCT.
In her free time, Adriane enjoys cooking, crafting, and the daily unexpected adventures that being mom to her son Hank brings.