We strive to provide worship experiences that offer intellectual stimulation, emotional comfort, and spiritual transformation: insight into truth and meaning; new knowledge of self, others, and the world; inspiration to act with compassion for peace, equity, and justice, and  with reverence for the interdependent web of all existence.
Our weekly Sunday Service is at 11:00 am.  Nursery care begins at 9:30 am and continue throughout events, meetings, and activities that occur after the service.  Children and Youth activities begin at 11:15 am starting with the Children's Recessional where they are welcome to participate by leaving the service to join the activities.
Sunday, August 26
Finding Our Way Back to Each Other …Every Single Other
Guests in the Pulpit: Pam and Charley Rogers
Board Member on Duty: Denise Wooley
Is crossing the divide between us worth the trip? And, what's at stake if we don't?
We explore the "Why," the reasons to have those challenging, emotionally-charged conversations with people "different" from us.
Amid the turmoil of what some have called the "politics of rage," many of us are experiencing broken relationships and choosing to cluster in silos of "people like us." Why face the discomfort, fear, and uncertainty of reaching out to mend and build relationships?
Our message shares what we need in response to these 21st century conditions: Chutzpah and humility, along with five habits of the heart, as suggested by Parker J. Palmer.
The service will cover the "why" and workshop following the service will cover the "How".
Workshop: Moments of Truth – Building Relationship, Building Community
Sunday, August 26, 12:30 – 3:00 pm, Room L
Following the "why," presented in the service the workshop will dwell on the "how."
The "How" of "Finding our Way Back to Each Other"
Whatever the difference, whether politics, faith, culture, ethnicity, economic status, or sexual orientation, it is possible for you and me – "we the people" – to create more open, respectful and life-giving conversations. It is not only possible, it is necessary.
We base this workshop on two quotes:
"The shortest distance between two people is story."
"Behind every belief is a person."
We will share practices that help people deeply engage in story for mutual understanding. We teach tools to enhance listening skills (Compassionate Listening) and speaking skills (Steps to Transformative Dialogue).
It is a highly interactive experience.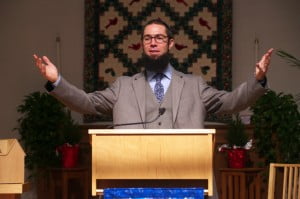 The September 9th service will be the 1st time our new Minister, William Levwood, will be in the pulpit as Worship Leader!  He will be participating in some capacity at services before then so you will have plenty of opportunities to meet him!