Minister and Staff
William Levwood, our settled Minister, began his ministry with us on August 16, 2018.  He received his Masters of Divinity from Starr King School for the Ministry in Berkeley, California. Previously he served as the intern minister at the Unitarian Universalist Church of Reading (Reading, Massachusetts). Most recently he completed a two year chaplaincy residency at Wake Forest Medical Center in Winston-Salem, North Carolina, where his focus was in Oncology and Palliative Care. Among other things, William brings a passion for environmental and racial justice, excellence in worship, including worship for all ages, and a nurturing spirit for sustaining and deepening loving community at UUCT. He and his family are overjoyed to be joining this community and the larger community of Tallahassee.
Message from the Minister            Worship Recordings
Tallahassee Democrat Article from October, 26, 2018
Angel de Armendi, Music Director, received his Bachelor of Music degree from New World School of the Arts and continued his study of piano performance at Florida International University. He made his way to Tallahassee through the Music Theory graduate program at FSU. While in school he diversified his piano skills accompanying FSU and Tallahassee City Ballet dance classes. His interest in vocal coaching took him to the Asolo Song Festival in Italy during two summers, as Assistant Director/Pianist and Composer In Residence. In Tallahassee, he also directs the High Holy Days Choir at Temple Israel, and has been their regular pianist since 2008. His love for sacred music and practice has motivated him to go through and graduate in 2015 from the Music Leadership Credentialing Program, offered by the Unitarian Universalist Musicians' Network. During their 2015 conference in Boston he was unanimously elected as Board Member at Large for the Board of Trustees, a three-year voluntary commitment. He is deeply committed to building a thriving music program at the Unitarian Universalist Church of Tallahassee.
Suzanne Ripka, Office Administrator, comes to us with over 17 years of managerial and administrative experience. The majority of her skills were initially developed while working at Dartmouth-Hitchcock Medical Center (DHMC) in Lebanon, NH.
The concept of informed choice was introduced to her by Dr. James N. Weinstein when she joined his Spine Center team at DHMC in 1999 as the Spine Center Assistant. She says, "I am eternally grateful to Dr. Weinstein for giving me the opportunity to learn and grow while implementing my grant writing and web design skills. During my time at the Spine Center I developed two annual reports and assisted in establishing the Functional Restoration Program. I have continued to use and expand what I learned to carry my own decision making model throughout my career and in my personal life."
Her career highlights include being a published author on an abstract that was accepted for the 2009 American College of Rheumatology Annual Scientific Meeting, acquiring over 50k in funding for Camp Dartmouth-Hitchcock (a one-week overnight camp for children with connective tissue disease), organizing continuing education seminars, and "collaborating with some amazing people."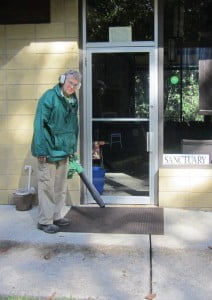 Our Sexton, Les Campbell, is a multi-talented handyman who loves the outdoors.  His family has been in the Big Bend for generations and he is a wonderful unofficial local tour guide.  He volunteers much of his free time with organizations that focus on cleaning up the environment.
From the moment Scott Geraci, Chief Nursery Worker, first came to UUCT more than 10 years ago, this father of six has worked with the congregation's children. He began as a volunteer in the nursery, and moved on to work with the Youth Group, the middle school-age group, and also the kindergarten-age children and first graders. He later returned to work in the nursery, where he continues to supervise the care of the children of members and visitors. Scott works full time teaching art to adults with disabilities and in his spare time pursues his own artistic interests including photography, drawing, sculpture, and writing.