Music Program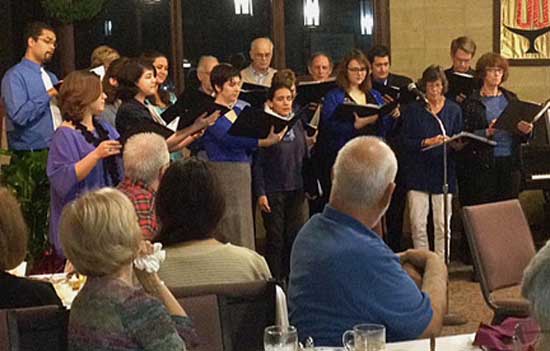 Music provides a foundation for and an expanded view of the topics we address in Sunday Services. Under the direction of Music Director Angel de Armendi, choral and instrumental music augments congregational singing at every service.
The Music Committee offers a series of concerts for the general community. In addition, the church supports young artists by inviting their participation as guest artists in our Sunday services and other events.
For more details or if you are interested in participating in any of the music programs listed below, contact Angel de Armendi at (850) 241-3417 or by email at music.director@uutallahassee.org. For email inquiries, please put UUCT Music Program in the subject line.
Chalice Choir 
Have you considered being part of this ministry? The heart of our ministry is the Intergenerational Chalice Choir. Joining the choir does not require any experience in singing, just a willingness to attend weekly rehearsals and be open-minded while learning a new skill — one that you may come to love! The health benefits of singing are well-documented, and finding a new church family is often heart-warming.
Aurora Chamber Choir
This Ensemble sings once a month.  Sight-singing and vocal technique required. By audition only. Please visit https://www.facebook.com/AuroraChamberChoir for more info.
Family Choir
The Family Choir initiative will be relaunching this fall for families with children aged 8-12. Research shows that children who learn and practice an instrument perform well in school. Parents or family members should be willing to learn how to read music and sing with their little ones in this choir. Rehearsals will be an hour long, including 15 minutes of social time. Meeting times TBA based on families' schedules.
Instrumental Ensembles
Do you own or play an acoustic or electronic musical instrument and want to play with others and/or be heard? Please consider helping to jump start a beginning and/or intermediate garage band. Yes, you heard it right! Ensemble meeting times and nature of the ensemble(s) (acoustic, electronic, folk, rock, fusion, etc.) TBA.
Lyricists/Songwriters
This lab revises and rewrites traditional hymns, folk or popular songs. Parodies and original lyrics, as well as new settings to original tunes, are all welcome. Times are based on availability of volunteers.